What is it?
Surely you have heard talking about web positioning to achieve the best positions in Google. This is one of the main goals of companies because if they are among the first searches they will get more visits and more clicks. This means sales or increased online reputation.
But, this is a long process that cannot be achieved in two days, it requires a well-defined marketing strategy and a lot of knowledge in this area. If you still don't know the ins and outs of online positioning, this white paper is of interest to you.
The Search Engine Online, or as we all know it, SEO, is a process based on techniques, strategies and disciplines of optimizing our website to improve positioning and, therefore, the purchase of products or obtaining more leads for our company.
Nowadays, the majority of the population knows about new businesses thanks to the internet and this is where the desired positioning comes in. If we have a good position in the search engines, customers will find our website more quickly and it will lead to an increase in business volume and visibility.
The marketing sector has been implementing these strategies for years thanks to the good results they offer and the growth they represent with respect to the competition. A marketing strategy based on achieving a better positioning will result in a higher growth of the brand.
In addition, through this system we can select which image we want to transmit to the world depending on the requirements of our consumers. Positioning will help us to launch an excellent brand image, reputation and corporate image.
Characteristics
As you can see, the importance of this process is paramount when launching your website and during its active time. Here are some essential elements when it comes to positioning your website in search engines:
Originality and distinction from competitors.
Transmit the values of the company.
Always seek profitability through the analytical measurement of factors related to web positioning.
Added value through SEO.
Advantages
Web tracking, indexing and publishing are key factors when it comes to getting a better position on your website. If you still don't think this type of strategy will work for your company, here are some reasons why you should implement organic search engine optimization.
This factor is linked to the creation of valuable content in which the user can find the information they are looking for. If you offer relevant information related to the requirements of your user, you will undoubtedly get more visits and a greater impact on networks.
If you are well known among the public, it is natural that consumers will turn to your website to find other products they need. Above all, if during the purchase the website has transmitted confidence and security, your website will be one of the first ones they consult.
Competitive differentiation.
Thanks to a good strategy in networks, excellent positioning and the transmission of brand values, consumers will be able to appreciate that your company is different from the rest. Therefore, they will turn to you before the rest. The important thing is to always keep in mind what we want to transmit, thinking about the consumer and their requirements, and if we also have a good positioning on the web, we will have it all.
Education of your community.
One of the great advantages that stand out in web positioning is the sale of more products, but it is not the only one because thanks to the content you create or the products you sell you will be able to teach them some criteria to take into account during their purchase.
Presence in the customer's mind.
Unconsciously, when the user maintains a relationship with the company, whether it is a previous purchase or visibility on the web, when he wants to make a purchase, your company will be present in his mind. This is one of the first results that we will obtain if we have a good web positioning.
Type of result
On the web you will not only find brands that have created their page, there are three types of results you can get:
There are usually a maximum of four ads with the "ad" tag. This technique is implemented through SEM (Search Engine Marketing), for the promotion of content. The company that wants this first position in the search engines will have to participate in an auction to obtain it, even though the first position only has a click rate of 2.8%.
This type of element is called position zero as it is one of the most demanded. It consists of the appearance of the answer to the search made in the search engine. The position can be reached if the answer is perfectly adapted to the search made.
This type of results are the ones we are dealing with in this white paper. They correspond to the web pages that the search engine considers that can satisfy the requirements of the person performing the search. In order to obtain the top positions in the search engine, multiple factors must be taken into account, which we will tell you about below.
The click rate in this type of results is 60%, especially if you are among the first positions of the search.
What does positioning depend on?
There are a series of aspects to take into account when positioning your website. Here is a list of them:
One of the main elements to take into account is content quality. Search engines are very aware of this point as they are not only attentive to factors such as bold or links but also the information you disseminate is essential to obtain a good positioning.
The title, the meta description or the CTR are just a few factors that will help you improve your SEO.
If you establish a good content strategy, use both internal and external links and the speed of your website is good, you may rank well in the search engines.
If you manage to keep the user on your website, this will be one of the elements that will increase your positioning on the web.
Click Through Rate (CTR).
The clicks on our website are also important to compare with the number of purchases and thus, to see if our website is attractive enough or to know what the failure is.
This rate can be extracted in web analytics programmes that will help us to determine the errors, the components that work correctly.
Networking is nowadays a major factor in any business. If your content is attractive and useful it will be shared and users will share it, this is also a way to make yourself known and, in addition, improve your web positioning in search engines.
This factor will depend on the quantity and quality of links to your brand that are present on other websites.
On-page SEO variables
As we mentioned before, on-page SEO is one of the factors to take into account if you want to improve your positioning, so here are the components that are within this variable:
The structure also determines the position of your website. If you want to get a good position you should write your information in a concise, clear and coherent way. Internal and external links are key in this step.
This step may seem one of the most complicated if you have no knowledge of programming language. But, it is essential to get a good position because search engines will consult it when indexing your website in search engines.
If your website is related to other websites that have good positioning, your brand will gain visibility and you will move up in the search engine.
Techniques
Identifying buyer personas.
One of your objectives and priorities should be to establish your buyer persona. If you don't know who you are targeting, you won't know what content to create and what strategy to follow. In this way, you attract an expert audience and thus generate greater opportunities for conversion.
The value of content will be based on three fundamental pillars:
Technology: depends on the SEO configuration of your website.
Relevance: depends on the quality of the content.
Authority: depends on external mentions of your website.
As you can see, content has several aspects to take into account, it is also one of the most important elements when it comes to indexing a page, so you should always try to create relevant and informative content for your users.
Surely you have heard talking about keywords, this component is of great relevance for the indexation of the web. Depending on the type of content you publish, you will have to choose one keyword or another.
There are different types of keywords:
By search intent:

Informative. Example: How to use keywords?
Navigational. Example: HelloMrLead.
Transactional. Example: B2B Sales Course.

By search volume:

Head Tail. Example: Leads.
Middle Tail. Example: Getting leads.
Long Tail. Example: Ways to get leads.
Optimizing pages and content.
This section is focused on all the actions that you can perform from your website to obtain a better positioning and thus help Google's algorithm to interpret our content. Here are the main factors to take into account to optimize your website:
URL.
Meta title.
Meta description.
Heading tags.
Images with alt text.
Keywords volume.
F-shaped scanning.
Placement of the most important information according to the eye scan.
The classification of content can be another factor that helps your positioning. By means of topic clusters, the user can identify the key elements and thus get an idea of the information. They are also a way of providing the user with clarity when reading. They are divided into the following elements:
Core topic.
Pillar page.
Subtopics.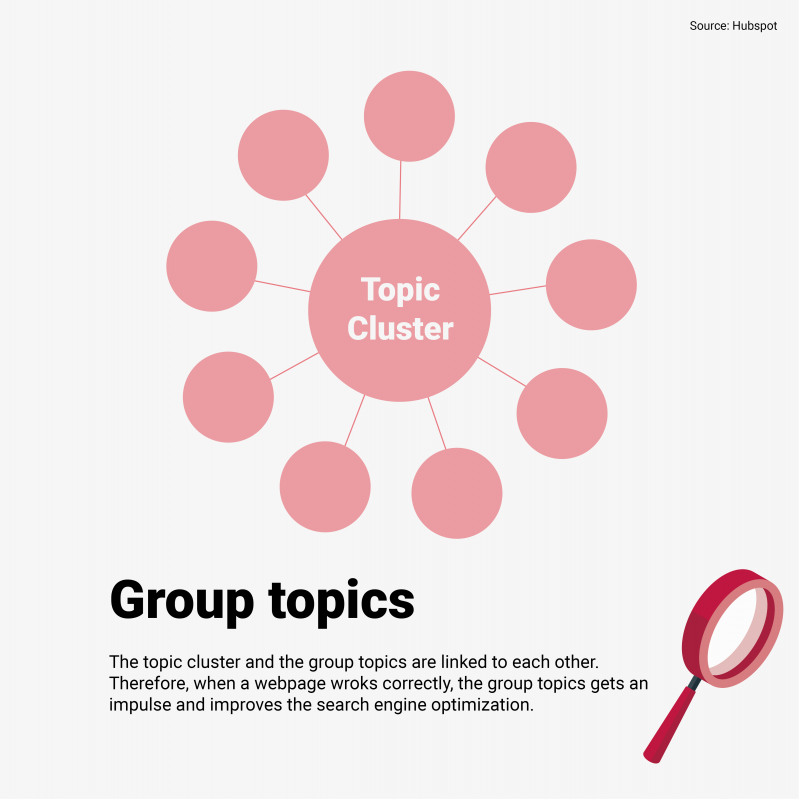 Google has become a very intelligent search engine, it not only evaluates the content to position it, but it is also capable of interpreting our natural language with misspellings, jargon or colloquial language.
Therefore, you should use semantic SEO to guess the keywords that the user will use and thus improve your position.
As we have already mentioned, authorship is fundamental for a website to be well indexed. If Google sees that your website is mentioned and linked to on other websites, it will classify it as a trustworthy website. With this you will gain positions on your website, but how should you do it? Here is the answer:
Backlink generation strategy.
Branding and getting mentions.
Social networks.
Public relations.
The last pillar to review is technical SEO, technology plays a key role in this element. If you want to improve it you should consider the following:
Responsive.
Loading speed.
Broken links.
Structured data.
There are several facets to take into account, all of them related to the user experience on the web.
Largest Contentful Paint: Loading speed of the main content.
First Input Delay: How long it takes for a website to become interactive.
Cumulative Layout Shift: Loading time from one page to another.
The creation of empty content for the sake of getting a better position is penalized by Google. Its algorithm analyses all these aspects to take into account and if it finds any bad practice it penalizes it. If you want to be well positioned we advise you to avoid the following practices:
Empty or superficial content.
Clickbait.
Organic Search vs. Paid Search positioning
These two practices have the same purpose: to remain at the top of the search engine rankings. The difference? Organic positioning is obtained naturally through the techniques explained above.
With this, you will obtain a long-lasting positioning and greater visibility and impact on the user. Paid positioning, on the other hand, is where the company hires Google Ads and pays to appear in the top positions.
This will only be stable during the months of payment, so this form is not recommended as it will not last over time. In addition, if a natural positioning is obtained, we can incentivise this growth by means of paid SEM strategies and thus obtain greater visibility.
Best positioned brands
Getting a good positioning, as you will appreciate, is a complicated process, but with perseverance and hard work it can be achieved. Many multinational companies have achieved top search engine rankings.
Here is a list of the companies that in 2021 have positioned themselves among the best in terms of reputation and image worldwide. Lego, Rolex and Ferrari are in the top 3.
Relevance
The importance of organic SEO is growing in these times in which we are continuously connected to the internet. Thanks to the techniques explained you will be able to obtain a better position in the search engines and with this greater visibility for your business.
It is not only about getting a better position, this can mean a greater awareness of your business, exponential growth or the creation of a legion of loyal followers. With this your brand will be able to continue to invest time in the product or service you offer as the focus is on the requirements of the consumer.